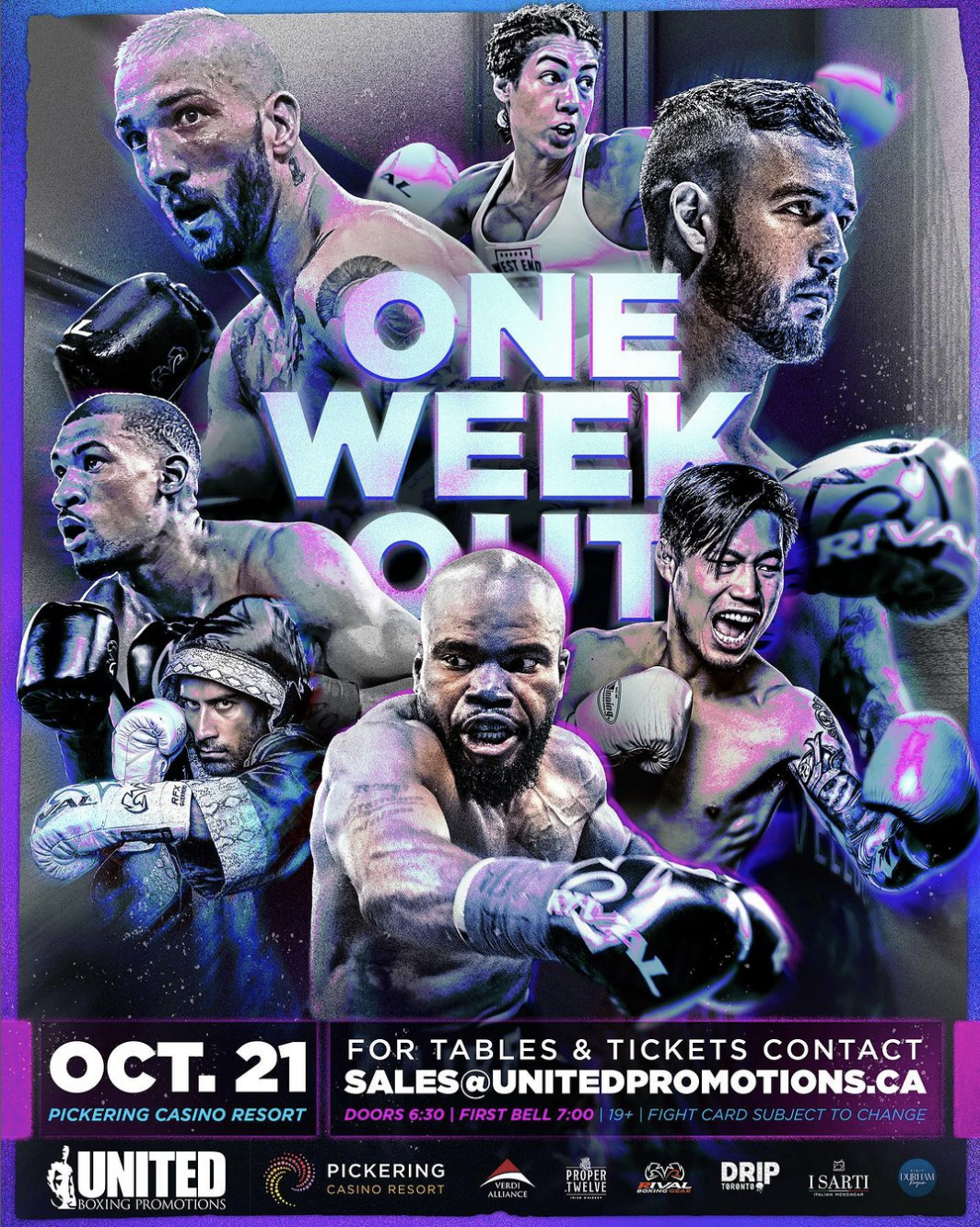 The below is a compilation of quotes from fighters and media members ahead of October 21's United Boxing Promotions fight night at the Pickering Casino Resort, headlined by Josh Wagner vs. Abraham Juarez.
---
Main Event: Josh Wagner vs. Abraham Juarez
"He's fought some big names, (and) his losses are credible opponents. I haven't seen much tape on him, (but) we prepare for anything in training camp." – Wagner
"Wagner is in there with a very experienced challenger who's been in with decent names, but The Boss is on another level — pun intended. He's going to want to finish off his three-fight year with a bang, and I think he gets Juarez out of there in the middle rounds." – Cole Whiston, Boxing World Weekly
"There's a unique ferocity that can be felt throughout the arena when Josh Wagner steps through the ropes. One thing you can be sure of is aggression — and entertainment. Expect body work early to open opportunities up top later. I'm saying lucky number seven, for the round of finish in Wagner's Pickering Casino Resort debut." – Shane Hollinshead, blow-by-blow commentator, Rogers TV
"He gained a lot confidence in himself with his last fight, and I believe Stevie Bailey is getting him right for this fight. Juarez is coming off a TKO loss, so I think that will play a factor mentally." – Aaron Dosanjh, No Finish Sports Media
---
Co-Main Event: Mark Smither vs. Paul Salcido
"I am pumped. The Pickering Casino Resort is a great spot for fight night and my legion of fans from Barrie will be coming down with me. I'm going to apply the pressure early and we will be able to push the pace against our opponent — we're looking for a clear, decisive victory." – Smither
"Smither is a master ring technician and has cruised through his 12 pro fights, but has yet to show he has knockout power. I think he wins all eight rounds and stays undefeated." – Adam Hunt, Boxing World Weekly
"Twelve fights, twelve wins by unanimous decision. I don't see this one turning out any different — Smither by decision." – Dosanjh
---
Contenders: Sara Haghighat-Joo vs. Esmeralda Gaona
"I'm ready to fight anyone that's within the top five. I want No. 1, and think I should be ranked top five right now — I would literally take on any of them who have belts. We're going after world titles, and by next year I should have a world title shot." – Haghighat-Joo
"Gaona is a durable fighter, and two of her four losses are against skilled boxers in Kim Clavel and Soledad Vargas. For Sara, it's a great opportunity to practice things and feel the pressure this kind of boxer can bring in the ring. Esmeralda likes to fight in a phone booth and has good volume. Sara should, however, dominate the fight (and) I expect a large unanimous decision in favour of Sara." – Marie-Eve Albert, 120 Secondes Podcast.
'"Sara is coming off an unfortunate result in her Olympic qualifiers, and returns to the pro game looking for some vengeance. Her opponent isn't going to go easy either, as she's been in the ring with a former World Champion in Kim Clavel. Haghighat-Joo is going to have her work cut out for her, but she will grab the decision win." – Whiston
---
Veterans: Shakeel Phinn vs. Rafael Sosa Pintos
"I am ready for those big calls in 2024, those are the fights I want, the top guys at 168. A win over Pintos will propel me into the conversation of taking on some of those top guys." – Phinn
"Fresh off his IBO Americas Super Middleweight win, confidence should be sky high for Phinn. He will have to climb a mountain of experience — Sosa Pintos has 81 professional contests — but with four bouts under his belt, the rust is off and his performances continue to get better and better. Phinn by clear unanimous decision." – Hollinshead
"With just one stoppage in his last four, Phinn's in need of a statement against an older opponent. Expect him to put on a show for the crowd and pick up a knockout in the process!" – Hunt
---
Terminator: Gisu Lee vs. Andres Sanchez
"Fans should keep an eye on my left hand, we have a plan and it will be very fun to watch. But they shouldn't forget the right — and neither should my opponent!" – Lee
"Nobody hits harder than Gisu, and I think he's really slept on. But October 21st, people will realize what a special talent he is. He has the right coaches and trainers behind him, and I don't think Andres Sanchez is ready for what's to come." – Dosanjh
"Coming off a knockout win in his last fight, returning to 135 and facing an opponent with just two win since 2019 — there are too many reasons to not pick anything but Lee by stoppage." – Hunt
---
Hell Razor: Joshua Frazer vs. Carlos Rodriguez
"Six knockouts in eight fights, and I don't see this one ending any differently. Third-round stoppage for me." – Dosanjh
"He's nicknamed the Hell Razor for a reason. Eight outings, six stoppages and those two decisions coming in his last two contests. That should mean he's itching to add KO number seven, and with the extra two rounds he's getting this time I think Frazer will stop Rodriguez." – Whiston
---
Debut: Milad Zareian vs. Vicente Santiago
"The pro debut for Zareian should be a good one! He's got a nice jab for a fairly new fighter, and should be able to box his way to a decision." – Whiston
---
United Boxing Promotions presents a seven-fight professional boxing card on October 21st at the Pickering Casino Resort. Tickets are available now at unitedpromotions.ca.